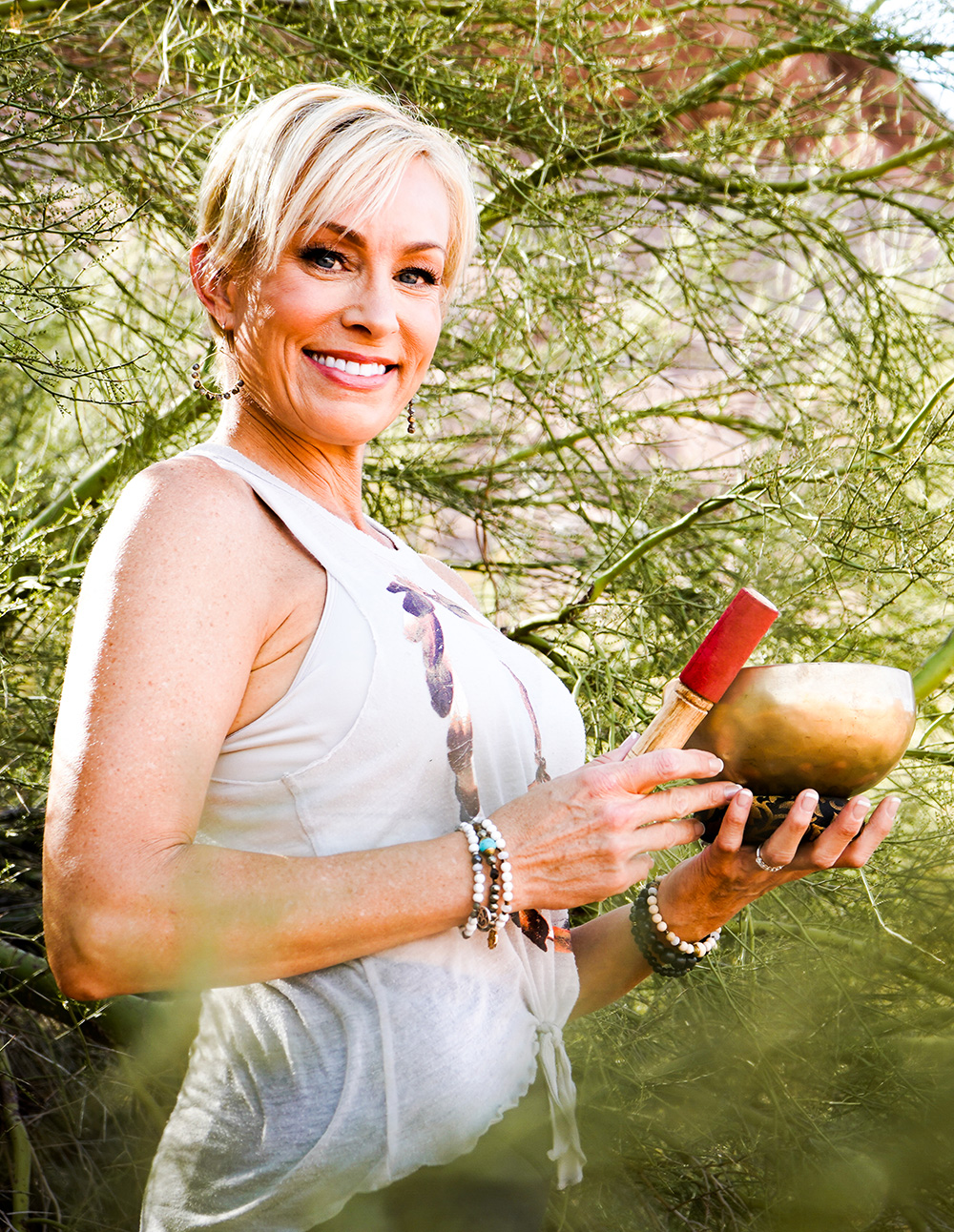 Cary grew up in Virginia and moved to Arizona in 1999. As she made her way through decades of corporate work, oftentimes she felt depressed, depleted, unfulfilled, and wondered what her true purpose really was in life. People would ask: What is your Passion? What would you do, if you could do anything you wanted? And a specific question in her mind kept asking… How Can I Serve? In 2017, Cary attended her first Sound Healing session. After that life-changing, transformative experience, the answer eventually appeared. This Is How You Serve. 
Cary started Shanti Sound to assist in bringing the ancient healing powers of sound therapy to the public. Her mission is to serve the collective with her passion for helping others and to increase awareness about this natural form of healing; it's the easiest way to enhance an overall wellness program. It's so simple, and yet so powerful.
Cary offers an incredible personal touch to the science of how music and sound have the power to heal the body, mind, and emotions. I was introduced to Cary's work after being fascinated by claims made by a friend that sound healing had completely changed their life by helping them get through a difficult loss. The research is there….better mood, less tension, overall increase in well-being. I've engaged sound healing for several months and have experienced the benefits for myself. Cary is an excellent sound healing practitioner with a gift to heal. I'd recommend Cary and her work to anyone seeking ways to release stress and truly heal the body, mind and emotions.
Josh M., Scottsdale, AZ
Cary's sound bath experiences have been magical for me. Listening to her play brings me to a deep meditative state, allows me to relax my mind and my body and I leave with a feeling of being more aligned and clear. I highly recommend attending one of Cary's sessions, whether it's for healing, releasing toxins, relaxation or tapping into intuition.
Kimberly D., Phoenix, AZ
Prior to the sound-baths I was feeling tense and a bit on edge. From the moment I heard the first sound, I was carried into my inner self. It wasn't hard for me to get comfortable almost immediately. From there, it's quite hard to remember all that happened but I was taken on a sound journey that felt deeply meditative and relaxing. I just remember "waking up" after the session feeling like I just had a full night's rest. The amount of clarity and tranquility I felt is almost indescribable.
Bre, 27, New York
Sound bath sessions with Cary will change your life! I started attending classes in April 2022 after being diagnosed with an autoimmune disorder as an alternative means to heal my body and the benefits do not stop. I have significantly lowered my blood pressure as well as reversed a right bundle blockage in my heart. My moods have become stabilized and my mental clarity is the best it's ever been. Cary offers an intimate setting that will leave you feeling relaxed and rejuvenated. She takes an investment in her clients by offering useful educational information and special events that dive deeper into enhancing you mind, body, and energy. Thank you Cary for providing a safe and healing space for all!
Katie, 35, Arizona
As a music lover and musician, I understand the impact of music and sound on your mood but the addition of the vibration in Cary's sound bath setting blew me away. I did not find it difficult to "float" away into a deep meditative state, and the hour long session was over before I knew it. I highly recommend this wonderful service as a part of your wellness routine.
A.S., Phoenix, Arizona
During a Sound Bath you will be lying comfortably on your yoga mat, you will be guided by the sounds of Gongs, crystal bowls, and other healing instruments into a state of meditation, relaxation, and possibly heightened sensations. As the frequencies from the instruments absorb into the mind and body, they work to correct any areas of low vibration back to their natural states of resonance. This gentle form of energy work has been used for thousands of years as an ancient form of natural medicine.