You're invited to a 90-minute transformational experience with music, yoga, meditation and Reiki with Matthew DeRubertis/SEER MUSIC and Jaimie Gunn, LMT/Reiki practitioner hosted at Shanti Sound!
In a beautiful and comfortable setting, you will be guided into a relaxed state while being bathed in an immersive world of Matthew's ambient sound, mantra, nature and medicine songs.
First, Jaimie and Matthew will begin by leading a short meditation & yoga practice to facilitate a state of relaxation.
During the sound journey, Reiki energy work and healing touch will be offered by Jaimie Gunn (LMT) to facilitate a deeper connection to sound and resonance within the body.
Explore your own potential for peace, rest, and receptivity in a nourishing and supportive environment.
Wednesday, April 5th @6:30PM
$66 Energy Exchange
This event is part of a tour supporting Matthew's new ambient album titled "Holy Morning Suite," under his SEER MUSIC project, available for streaming everywhere on March 18th.
MORE ABOUT MATTHEW: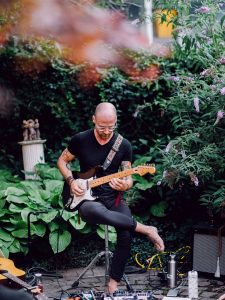 Matthew DeRubertis is SEER MUSIC, creating music for your next layer of consciousness, a musical invitation to go within and explore your inner world. Whether it be through music, yoga, meditation instruction or sacred medicine offerings, Matthew's work invites the receiver into a space of awe and wonder. He blends worlds of music and mindfulness practice, creating experiences that open our sense of vastness within.
You can find information about Matthew, his music and more-
Matthew's Website
Matthew's Spotify Profile
And more on Jaimie Gunn, LMT and Reiki Practitioner here!