A 3-Day Immersion Program in Scottsdale, Arizona, USA
Friday April 21st 2023 – Sunday 23rd April 2023
9:00am to 6:00pm each day
With Adrienne Smith, Associate Teacher & Tutor, Sound Healing Academy
Learn how to give sound healing, sound therapy, vibrational sound massage, sound baths and mindfulness meditation with sound!
This World-class workshop intensive and online learning centre is bringing to Shanti Sound AZ:
An introduction to the Science, Art & Alchemy of our unique Integral Sound Healing process
The foundational knowledge, skills and techniques for working with 6 main instruments for sound healing:
Himalayan/Tibetan Singing Bowls

Crystal Singing Bowls

Tuning Forks

Drums and Percussion

Gongs

Your Healing Voice
How to bring it all together for:
Personal self-care and spiritual evolution

1 to 1 sound healing sessions

Small group 'sound bath' healing sessions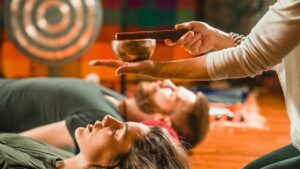 This 3-Day Program is a Full Certified Course and also has a 'workshop-only' option.
With this option, you will participate fully in everything during the workshop. You will not get access to any online learning resources or ongoing tutoring and support. You also are not required to do any home study or practice before or after the workshop.
The workshop-only option is ideal for:
People who want to enjoy learning and practicing sound healing skills and techniques without committing to extra home study
Online students who want the 'workshop experience'
The workshop-only option also enables you to:
Get a full workshop, hands-on experience with the joy and personal transformation that comes with it
Get personal feedback on your progress with learning sound healing skills and techniques during the workshop

Connect with like-minded people in a sacred space

Save $280 on the full certified workshop course

Upgrade to the full certified version if you want during or after the workshop
Book the Full Certified Course HERE
Book the Workshop Only HERE
Early Bird Discounts
Book the full certified course before 24th March 2023 for $640 instead of $720 – SAVE $80!