Boy oh boy, are we excited for the upcoming events that we have in store for you!
We are kicking off this New Moon in Taurus off strong this Saturday, April 30th at 6:30pm with our New Moon and Solar Eclipse in Taurus Sound Healing Ceremony: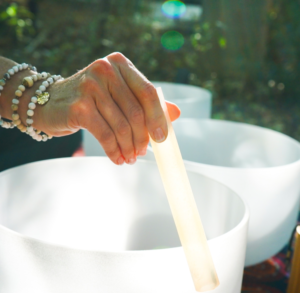 The New Moon in Taurus arrives on April 30th, and with it a Solar Eclipse – an excellent time to be meditating on following our hearts and starting new chapters in our lives.
This Eclipse is the second in a Taurus-Scorpio set that began in November 2021 with a Lunar Eclipse in Taurus. In the sign of Taurus, matters related to personal finances, values, ownership, resources, feelings of worthiness, desire for safety and security, resistance to change, comfort and familiarity will be a strong focus on a personal level.
This energy is about new beginnings regarding all of these matters. Long-term changes are in the works, so this meditation will also be focused on setting intentions on increasing our feelings of self-worth. We're being asked to get in touch with what it is that we truly value and want in our lives, and to part with those things or situations that aren't contributing to our feelings of worthiness.
Register on our classes and events page – $29 regular drop in rate, or use a session from your value package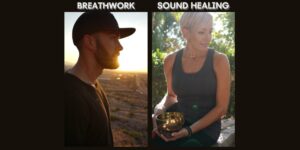 Next, we have Ryan McBurney and Cary are back, with another double dose of healing, releasing and transforming through breath and sonic vibrations on Sunday, May 1st at 2:00pm for an EDM Breathwork and Sound Healing:
We'll start with a short group intention setting, and settle into what our individual focus is for this experience. Considering this event also happens during the New Moon/Solar Eclipse in Taurus, all of the energies of self-love, self-worth and focusing on the future we want to create will be major influences.
Then we'll delve into the Breath to release, restore, and inspire as you create transformation within your mind, body, and spirit. Ryan curates a new playlist of Trance/EDM background music to drop you in even deeper.
A simple breathing technique will take you on a journey within where you'll realign with your higher self.
After you experience the bliss of your breath journey, you'll continue to receive healing and alignment through the frequencies and vibrations of sound healing.
Class will end with voluntary sharing and integration.
Register here on our classes and events page -$44 energy exchange. This event is a game changer for clarity, new direction, letting go of fear and losing those limiting beliefs for good! Detoxify, release and restore. Join us!
On Saturday, May 14th at 6:30pm and Monday, May 16th at 6:30pm join us for The Full Blood Moon and Lunar Eclipse Sound Healing Ceremonies:
A lunar eclipse has been described by some astrologers as THREE FULL MOONS IN ONE. This Full Moon in Scorpio and Lunar Eclipse is asking you to embrace the shifts, be open to discoveries that could be both illuminating and shocking at the same time, and take time to meditate on knowing that the deep and transformative changes that are happening are all for your highest good and understanding yourself and your purpose at a much more profound level. Moon eclipses have more of a personal effect on us, showing us what situations in our lives are keeping us from our soul's greatest joy.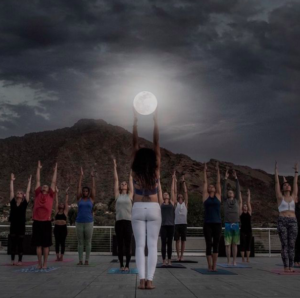 Register here on our classes and events page -$29 regular drop in rate, or use a session from your value package!
Saturday, May 21st at 6:30pm Veronica Clark and Cary bring you Moonlight Yoga and Sound Healing:
In the days following the Full Blood Moon in Scorpio and Lunar Eclipse, the heavy emotions, shocking revelations and sudden changes that many of us will be experiencing creates a PERFECT opportunity for joining together again for this high vibration community event. Join us in the sacred practice of yoga for an all levels, chakra opening flow with Veronica Clark to move stuck energy and excess emotion that's lingering in the mind and body, followed by a sound bath to relax, restore and receive powerful healing vibrations.
Register here on our classes and events page -$44 energy exchange.
This event sold out last month, so if you weren't able to join us last time, we're here to hold space for you again!
As you can see, there is plenty of opportunities to experience healing, opening and awakening ceremonies this upcoming month.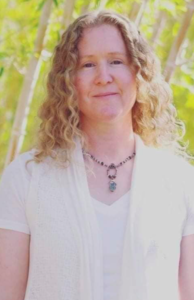 Another exciting event to mark your calendars, June 10-12th there will be a 3-DAY Sound Healing Academy International Level One Certification Training with Natalie Brown!
Natalie Brown was my trainer/mentor during my Sound Healing education through Sound Healing Academy International, she's a classically trained violinist, teacher, and masterful educator of all aspects of Sound Healing. She's been traveling around the country the last few years doing in person training for SHA students and others who want to learn more about the magic of Sound Healing. I am SO EXCITED to now have a place where Natalie can offer her expertise to people in the Southwest!!!
Early Bird Special until May 13th, this amazing workshop already has almost 10 people registered, click here for more information and to secure your spot: